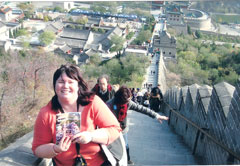 Lisa Simonet's picture of her striding up the Great Wall of China has been judged the best entry in the Journal's latest Photo Competition.
Paul Sabin, managing director of competition sponsors Blue Islands, found it tough choosing a winner from all the excellent entries.
He outlined his reasons for choosing Lisa's picture.
"The photo angle is quite evoking, with the shot looking down the steps and the buildings in the background. Lisa also ventured pretty far to take it!"
Paul said choosing Lisa's entry wasn't easy.
"It was a tough call as the entries were all great."
Paul said Blue Islands were delighted with the response.
"Blue Islands is delighted to have been part of this competition. We have enjoyed looking at all the entries and seeing the places that people have visited and the adventures they've had.
"The competition was a great idea and we look forward to welcoming the winner on one of our weekend breaks to Guernsey in the near future."
Lisa's prize is a trip for two to Guernsey, which includes two return flights from Alderney, courtesy of Blue Islands, and one night at the four-star Fermain Valley Hotel.
For information on Blue Islands visit www.blueislands.com or call 08456 202122.
Visit www.fermainvalley.com for details about the hotel, or call 01481 235666.