Anger over proposed smoking ban
Posted Fri 8th January 2010 at 19:41
Residents spoke out against introducing a smoking ban at this week's people's meeting.

Former States member Lin Maurice told the Island Hall gathering a ban was unnecessary and would be unpopular. She also said the States had failed to consult the public despite two protest marches and numerous petitions.

Mrs Maurice said: "People are making it quite clear they do not want a ban, but freedom of choice.

"A ban is not in Alderney's interests. Tourism will suffer, pubs will close and people will lose their jobs if a ban is introduced."

Mrs Maurice added: "We're just bowing to pressure from Guernsey. This is Alderney, not Guernsey. We do things differently here."

Terri Marriner, landlady of the Coronation Inn, said a ban would force smokers out on the streets and create disturbances.

"There are enough problems in the summer months as it is. The police will need more staff if a ban is brought in."

Carole Neill said the island's tourism industry relies on pubs.

"The only thing we can offer tourists in Alderney is the pubs. A ban would be the beginning of the end for Alderney."

Another member of the public said he should have the right to drink in any pub without being forced to breath in carcinogenic fumes.

Convener John Beaman said every view would be read out at next week's States meeting. Mr Beaman went on to say the public should expect to hear several amendments to the proposed smoking law, which will come into effect on June 1 if passed by the full States on January 13.
---
Next story: Alderney introduces smoking ban
Previous story: Snow and ice force school to close
Current issue 1188 - Feb 7th 2020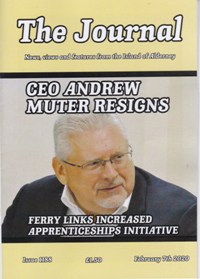 CEO Andrew Muter Resigns
Ferry Links Increased
Apprenticeships Initiative
Back Issues
Back issues
of the Journal are now available

The Guernsey Bereavement Service has made three visits to Alderney over the past few months and would like to continue to help you. We are visiting the island again on Tuesday, 12th November 2013 and would invite anyone who feels they would like Bereavement Counselling to telephone the Bereavement Service Office on 257778 to make a time to meet one of our counsellors.

What's on in Alderney

, ,

, ,
Journal all over the World

Great Wall photo wins picture prize
Things to do in Alderney
Contact details of Alderney Clubs and Societies