Nativity charms audiences
Posted Mon 8th January 2018 at 09:55

Alderney's youngest school children charmed audiences with their Christmas nativity play this week.

A Bedtime Story told the traditional tale of the birth of Jesus in a manger, punctuated with a string of upbeat songs.

The many shepherd, king, angel costumes and the set featuring the skyline of Bethlehem were once more called into service - still going strong after at least a decade.

All 80 or so primary school pupils took part in the show and it is being watched by older school pupils, visitors from the Connaught Care Home, teachers and parents over three days this week.

Gill Costello, who has directed the Christmas production for 14 years, was once again responsible for the success of the show. "It's quite a simple show this year as we could only begin production around three weeks ago, after the school inspection was completed. It's always a challenge getting everything done it such a short time. But the children were excellent - all of them remembered their lines. It's always worthwhile and lovely for families to see their little ones on stage - it marks the start of Christmas for us."


---
Next story: Super fast broadband for Alderney
Previous story: Thousands of post WW2 documents released
Current issue 1170 - May 17th 2019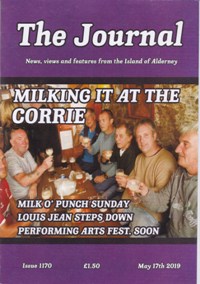 Back Issues
Back issues
of the Journal are now available

The Guernsey Bereavement Service has made three visits to Alderney over the past few months and would like to continue to help you. We are visiting the island again on Tuesday, 12th November 2013 and would invite anyone who feels they would like Bereavement Counselling to telephone the Bereavement Service Office on 257778 to make a time to meet one of our counsellors.

What's on in Alderney

, ,

, ,
Journal all over the World

Great Wall photo wins picture prize
Things to do in Alderney
Contact details of Alderney Clubs and Societies