Population dipped in 2017
Posted Tue 3rd July 2018 at 13:49
The population dipped by 15 people last year bringing the total number of people on Alderney to 1,985.

Deaths outnumbered births by 12 and the number of people emigrating from the Island was three more than the tally that moved to the Island.

It means the total population has decreased around six per cent from 2011, when the Census showed there were 2,090 people living on Alderney.

The figures were harvested from seven States of Guernsey government departments including Social Security and cover the period from March 2016 to March 2017.

They provide a snapshot of Alderney's demographics, housing situation, employment and earnings.

Worryingly, the rolling electronic census figures show that in addition to the downturn in population, the proportion of people of working age continues to fall, while those of 65 plus continue to increase. In 2011 the number of people on the Island who are of working age has dropped from 1,295 to 1,085 - from 11.4 per cent to 9.6 per cent of the population.

The proportion of people in the 65-84 age group rose from 505 in 2011 to 607 in 2017 - going up proportionally from 23.9 per cent to 30.6 per cent.


---
Next story: Delayed departure to Jersey flights
Previous story: water mill sheds its scaffolding
Current issue 1162 - Jan 25th 2019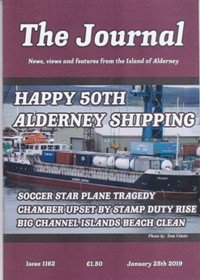 Happy 50th Alderney Shipping
Soccer Star Plane Tragedy
Chamber Upset by Stamp Duty Rise
Big Channel Islands Beach Clean
Back Issues
Back issues
of the Journal are now available

The Guernsey Bereavement Service has made three visits to Alderney over the past few months and would like to continue to help you. We are visiting the island again on Tuesday, 12th November 2013 and would invite anyone who feels they would like Bereavement Counselling to telephone the Bereavement Service Office on 257778 to make a time to meet one of our counsellors.

What's on in Alderney

, ,

, ,
Journal all over the World

Great Wall photo wins picture prize
Things to do in Alderney
Contact details of Alderney Clubs and Societies