Same Sex Marriage moves closer
Posted Tue 10th October 2017 at 10:26
States members will this month vote on new legislation to allow same sex couples to get married in Alderney.

The Same Sex Marriage (Alderney) Law 2017 will give same sex couples the right to get married in a civil ceremony or, providing the religious organisation concerned agrees, in a religious building or according to religious rites.

It will also extend existing legislation for heterosexual couples, covering issues like divorce, separation and bigamy to same sex couples. The legislation has been drawn up by Law Officers into a Projet de Loi. At last month's Policy and Finance meeting Policy and Finance Committee members voted unanimously to approve the legislation. States Members will be now asked to vote to request the President to ask the Privy Council to sanction the new law. If approved by the Privy Council, a raft of amendments to other loca legislation will also have to take place such as to tax and inheritance laws, which is not expected to be a speedy process.


---
Next story: Manche Iles Express extra visits
Previous story: Performing Arts Festival lights up Alderney
Current issue 1157 - Nov 2nd 2018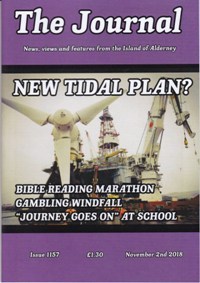 Back Issues
Back issues
of the Journal are now available

The Guernsey Bereavement Service has made three visits to Alderney over the past few months and would like to continue to help you. We are visiting the island again on Tuesday, 12th November 2013 and would invite anyone who feels they would like Bereavement Counselling to telephone the Bereavement Service Office on 257778 to make a time to meet one of our counsellors.

What's on in Alderney

, ,

, ,
Journal all over the World

Great Wall photo wins picture prize
Things to do in Alderney
Contact details of Alderney Clubs and Societies