States shift position on FAB
Posted Tue 10th October 2017 at 10:28
States Members passed a motion to formally declare their neutral stance on subject of an electricity interconnector across Alderney, thereby distancing themselves from the previous administration's favourable stance on the issue.

In a series of discussions on the FAB cable at this month's Policy and Finance meeting, "the Committee agreed that it was committed to encouraging sustainable investment which is in the long-term best interests of the Island, and that it would continue to deal with all matters in a fair and balanced manner with due integrity and honesty and that as regards FAB, the current States remained open-minded."

Members also agree to request FAB material on the feasibility and cost of routing the cable around the Island was made available to them.

They agreed that the plebiscite question should be "short and uncomplicated" and that a workshop chaired by an independent professional should take place before the vote.

In the run up to it States Members agreed to pass most of the 52 questions raised by Longis resident Nigel Dupont, to FAB Link Ltd for answers, which will then be made public. Mr Dupont put the questions to the States as a chief plea in September.

They include: Why does the cable has to come across the Island, if it is not linked to tidal power? What are the intentions of DCNS/ RTE (our real long term partners) about their intention for Alderney? How will fibre optic cable for the island work? Who is the operator in France and who will take it on in Alderney? Has FAB given a guarantee this will be provided and laid to all homes and businesses, and in what timeframe? Who will undertake and fund the works required and when will this happen? When will we know exactly what is being built for the broadband project, and how it connects to local homes and businesses? Can we ask for upfront payments on the wayleave agreement?

Mr Dupont said he was reassured that his questions were to be answered. "However, the States need to realise that as long as the greenbelt legislation stays as it is, they call the shots over the routing of the FAB Link and they can demand all of the information we need."


---
Next story: Gannet colony features on Liar
Previous story: Manche Iles Express extra visits
Current issue 1157 - Nov 2nd 2018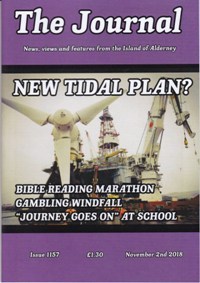 Back Issues
Back issues
of the Journal are now available

The Guernsey Bereavement Service has made three visits to Alderney over the past few months and would like to continue to help you. We are visiting the island again on Tuesday, 12th November 2013 and would invite anyone who feels they would like Bereavement Counselling to telephone the Bereavement Service Office on 257778 to make a time to meet one of our counsellors.

What's on in Alderney

, ,

, ,
Journal all over the World

Great Wall photo wins picture prize
Things to do in Alderney
Contact details of Alderney Clubs and Societies